I recently got a book, several copies actually of the book Whatever Is Lovely by Tina Krause. The book asks us to celebrate the good gifts and loving promises through thoughtful devotions, inspiring quotations and scripture with encouragement from Philippians 4:8.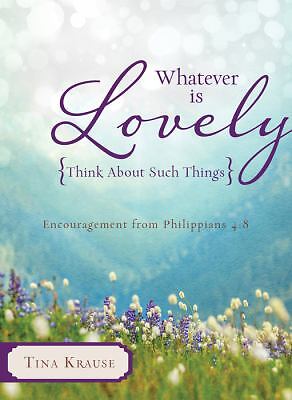 I see life as a path. We all start at different points; depending on who our parents are, our circumstances and our health. Our end is imminent, and could happen at any time during our life's path. During our walk up the path, we all have choices, purpose and a legacy we leave behind.
Choices
Whatever consumes your mind, consumes your life. Whatever is lovely, is encouraging. Being an encourager is a choice. It is choosing not to be the critical of yourself and others in your life.
"Finally, brothers and sisters, whatever is true, whatever is noble, whatever is right, whatever is pure, whatever is lovely, whatever is admirable-if anything is excellent or praiseworthy-think about such things." - Philippians 4:8
Purpose
Some days it's hard to think a clear thought, let alone finding and creating a purpose. Some of us find purpose in our professions, our hobbies or a talent.

"The Purpose of Life Is to Discover Your Gift. The Meaning of Life Is to Give Your Gift Away" -William Shakespeare.
While others biggest purpose is their home and family.
Legacy
Legacy is the memory you leave behind in other peoples minds. Personally, I never thought much about legacy until a year or two ago. Last year was kind to us, but the previous five years before that I lost two grandparents in '09, another in '10 and in '11 my dad got diagnosed with pancreatic cancer and fought until his death in '13. One day you'll be a memory, so do your best to be a good one!
Whatever circumstances you face, be encouraged. Whatever is lovely is achievable. Focus on your purpose and legacy and take time to be at peace with your soul. These are my goals for time and eternity.