I've been doing family history research from my mothers side of the family. Her fathers side had the family names
Bird
(
paternal
) and
Hurt
(
maternal
) and her mother's side had the family names
Thawley
(
paternal
) and
Baker
(
maternal
).
Thawley is an ancient Norman name that arrived to England after the Norman conquest of 1066. The family lived in the village of Thorley. Thorley is a civil parish in Hertfordshire, England, encompassing the hamlets Thorley Street, Thorley Wash and Old Thorley; near Bishop's Stortford. It is mentioned in the Domesday book as Torlei, belonging to Geoffrey de Mandeville, a notable Norman Baron. During the reign of Edward the Confessor, Thorley Manor belonged to Earl Tostig.
Thorley Manor

Thorley Church, is dedicated to St James the Great, one of the twelve apostles of Jesus, which dates from the 13th century. From 1594 to 1610, the rector was Francis Burley, one of the translators of the King James Bible.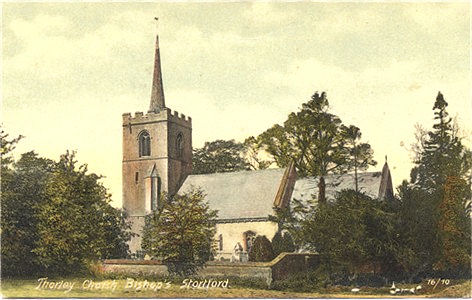 Thorley Church by
Our ancestors, the Thawley's attended Thorley Church and had the rector Francis Burley preach to them. They were agriculture laborers and by the early 1700's were already settled in Staffordshire, a county about two hours north.
My mom's maternal grandfather was born in Staffordshire, and I traced his family back to William Thawley who was born in 1715 and was married to Anne. His descendants for over 300 years were miners and colliers, some of which worked at the nearby Kingsbury Pit.

Photo by Gerald Boss
Unlike his forefathers though, my mom's maternal grandfather William Henry Thawley was a potter. His father, before him was a file packer.
Although, not as privileged, we'll keep looking back, as well as deeper into the lives on the family tree to learn a lot more.